Matthew Ronay
It's an Uprising!
February 25 – March 26, 2005
Main Gallery
Installation Views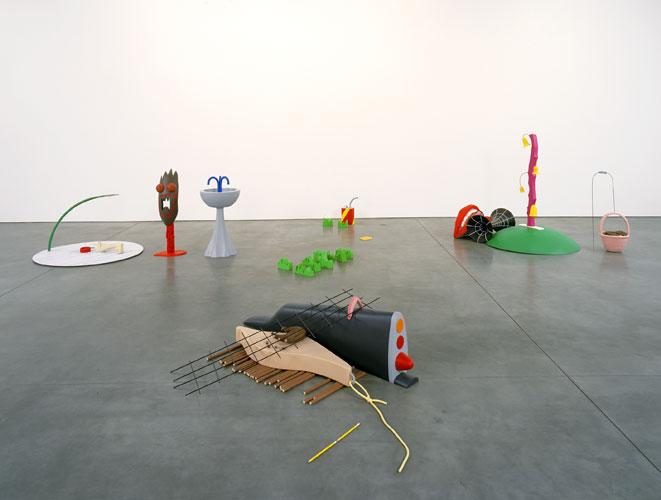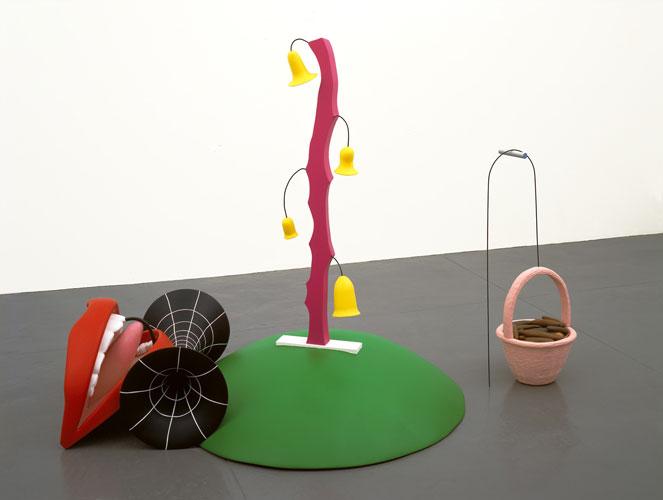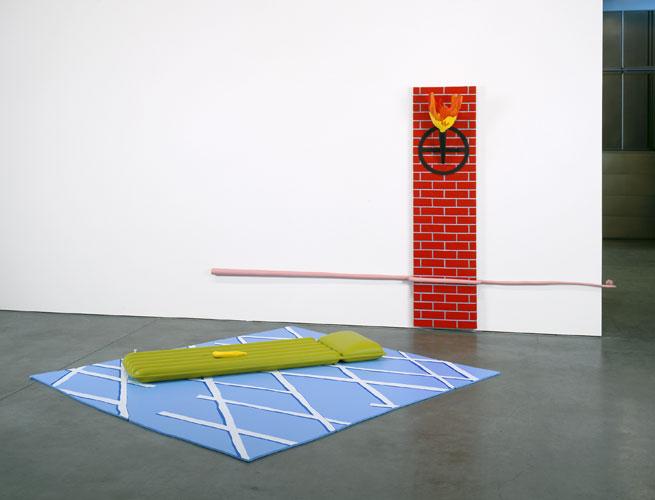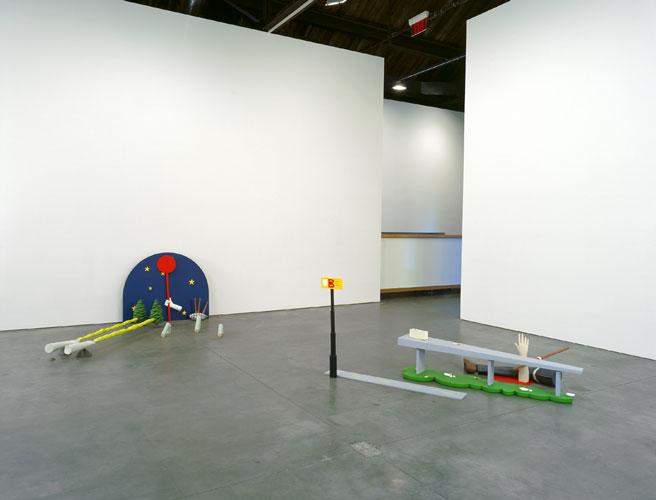 Press Release
Andrea Rosen Gallery is delighted to announce Matthew Ronay's first solo exhibition at the gallery.

Excess could be a vibration that comes underneath the earth and has to activate a chaos just to keep itself from making a big mistake. The people create new ways to bring themselves up by destroying what isn't of use to them and use what others can't or won't. It's not based on a current mode of beauty or thinking, it's the transference of warts rubbed on apples, not breathing air, and not being bound by our bodies or them to our brains. – Matthew Ronay

It's an Uprising! is based on the possibility and impossibility of a revolution in America. In a time when the mainstream dominates society, who would revolt? Ronay imagines a situation in which large numbers of people find themselves suddenly marginalized. Taking recent attempts to map the human genome as a starting point, he proposes a moment when this technology has advanced far enough to predict who is predisposed toward illness and who will remain well. Knowledge of genetics even allows for the forecasting of who will win the World Series; it would affect political contests and the success of entertainers. In this body of work Ronay plays out scenes from an imagined resistance movement formed from a new underclass composed of people of all ages, races, and socioeconomic groups.

Of particular interest to Ronay is the re-alignment of value that would accompany any such shift. Each work acts as a metaphor for the latent potency of otherness, depicting situations in which the ill might turn the very symptoms of their psychological and physical weakness into strengths. Science having failed them, Ronay suggests that the sick would revive discarded methods of power such as voodoo and black magic. Being more attuned to mystic things, they discover the fountain of youth and add to their ranks by bringing people back from the dead. A leper is able to reach through a fence by sacrificing the senseless portions of his body. One sculpture depicts a 'reverse rapture' in which all the bad people in the world are miraculously sucked up into a cat's butt hole, and it is earth, with all its obscure diversities, that is really heaven.

The bright colors and cartoonish shapes of each perfectly made object are purposely disarming. Ronay wants to entice viewers toward a state of mental play in which many possible meanings seep out of the work. Although his narratives provide a crucial structure for Ronay to investigate a political train of thought, it is not his intent for the sculptures to serve as perfect illustrations of a fixed plot. The individual story behind each work often develops out of its own making, flowing as much out of a formal physical practice as out of Ronay's initial ideas. More and more, there are elements within each sculpture whose presence and juxtaposition are unexplainable through the narrative. By laying out a visual puzzle that is designed to be unsolvable, Ronay intends to push sculpture away from the simply realistic, conceptual, or abstract, and toward a subversive realm of irrational possibility.

Matthew Ronay was born in 1976 in Louisville, Kentucky. He graduated from the Maryland Institute College of Art in 1998 and earned an MFA from Yale University in 2000. He currently lives and works in New York. Ronay was included in the 2004 Whitney Biennial and has an upcoming solo show with Marc Foxx in Los Angeles, CA.