Michael Raedecker
up
February 24 – March 25, 2006
Main Gallery
Installation Views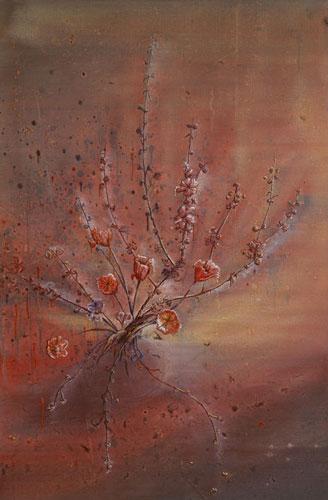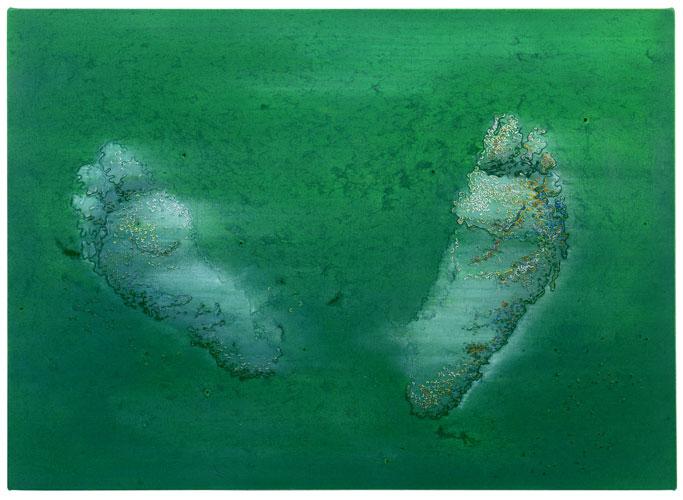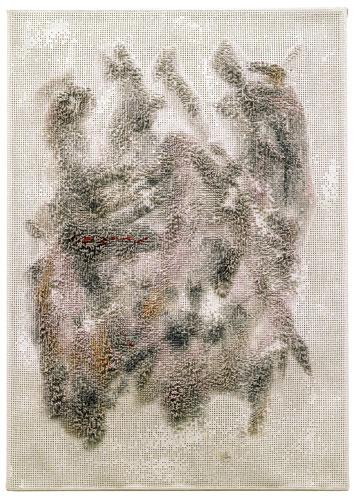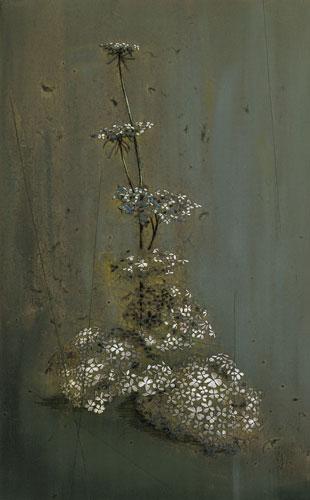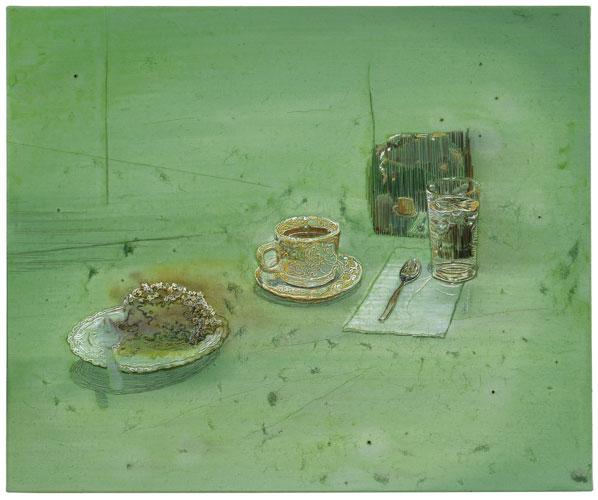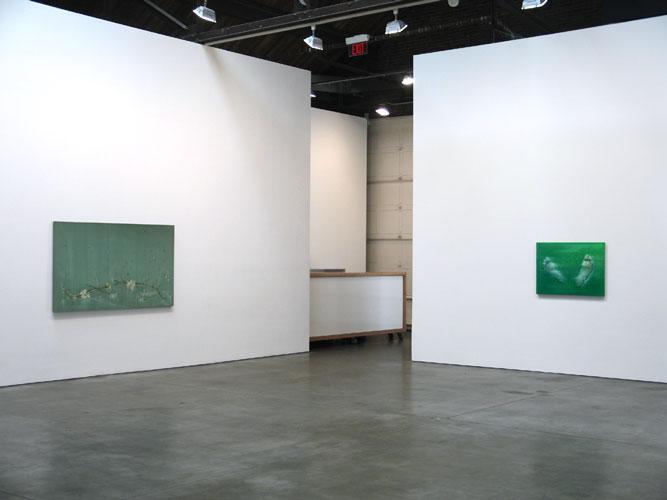 Press Release
We are pleased to present Michael Raedecker's third exhibition at Andrea Rosen Gallery. In full command of his dual vocabulary of paint and thread, Raedecker now wields both with such assurance that our attention is drawn less to technique and more to the painting and image as a whole. He has pared down his range of yarns and stitches, yet the thread plays an ever greater role in the central structure of the painting, and with minimal stitching he can create an image which resolves at a distance into crisp realism. The interplay of the two media is increasingly rich, as demonstrated in the red flower painting, "dirty", where thread mimics drips and splashes of paint, painstaking stitching posing as accidental and expressive brushwork. Elsewhere, entwined bodies are described with embroidered curlicues, echoed in the neighbouring pinky-grey abstraction where paint has been pushed in wormcasts through a tapestry canvas; paint and thread and flesh suggest and substitute for one another.

The genre of still life and specifically flower painting is a meditation on time, seeking to arrest decay and immortalize transient beauty in paint whilst alluding to time's depredations, in the 'vanitas' tradition which Raedecker invokes directly in his title 'vanity'. Beauty and decay are not warring impulses but coexist, the very lusciousness of the image infused with melancholy just as Raedecker's exquisite flowers glow with a sickly phosphorescence, and the tactile surfaces of his canvases both attract and repel. The body paintings are also concerned with beauty and with the transient. The torso, 'fix', suggests both the ideals of classical sculpture and a contemporary narcissistic pursuit of bodily perfection. Swarming, hair-like threads are somehow able to suggest the decay of the flesh at the same time as describing bulging muscles. 'o', depicting a couple having sex, is surprisingly intimate and tender in mood despite the pornographic angle of our view, and arrests another fleeting moment of perfection – or at least pleasure. The third of these works playfully quotes our view of the couple's feet, and refers to the fragmented bodies of the other two, yet here too is an intimation of mortality in the possibility that this is a corpse and not a sleeper.

Raedecker primes his canvas with muted washes of paint, matted in places with stray hairs and fibres - devices which make the canvases both aged and timeless objects. His sources are as varied as seventeenth century 'guirlande' paintings and 1950s Homes and Gardens magazine, and so while evoking recognisable historical forms his works float unfixed in any period. Stripping away foreground and background, or leaving a void at the center of the framing garland, he makes completely contemporary images from traditional forms. Titles, which the artist arrives at late in the process of making a painting, are deliberately enigmatic and intended to suggest multiple interpretations rather than prescribe one. Here they contribute to a prevailing mood that is uneasy and unhealthy, suggesting at once the illness and its cure ('dirty', 'fix', 'therapy'). 'penetration' is the name given to a delicate white flower painting, drawing our attention to the phallic form of the plant's bushy base and upwards thrusting stem. The title ties the flower subjects to the sex and body paintings, as well as referring to the penetration of the canvas both by stitching and by larger, empty holes.

Michael Raedecker was born in Amsterdam in 1963 and studied at the Rijksakademie, Amsterdam, and Goldsmiths College, London. He has lived and worked in London since 1996 and was nominated for Britain's prestigious Turner Prize in 2000.